Which mattress protector is right for me?
There has been an enormous shift towards local travel over the past few years. The growth in caravanning holidays has been particularly strong due to the comfort and convenience they offer. One downside is often the difficulty in finding suitable bedding. This is where Sarah Anne and Little Lion can help – with custom-made mattress protectors and sheets created to fit your caravan! Different sizes and shapes are no problem – all items are made bespoke to order from our shop in Glandore, South Australia. So, what can you get? My current range includes: Standard waterproof mattress protectors Quilted waterproof...
---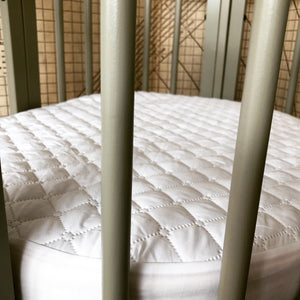 Babies. How can something so cute be so messy? As the mother of four lovely cherubs, I ask myself this daily.   After bringing home cherub number one, I was astounded at the spillage of bodily fluids. The spills would come from both ends; she had no particular preference as long as it was messy. I had to find a solution fast, so my custom mattress protectors were born.   There are many options to protect baby's mattress from spills and for comfort. They are practical and durable in design. Both waterproof and non-waterproof options are available with options to...